– by KD Williamson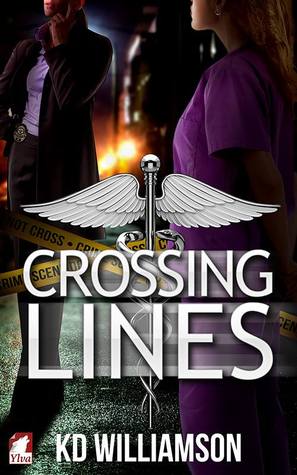 This applies to both "Blurred Lines" & "Crossing Lines" in the Cops & Docs series.
I absolutely LOVE KD Williamson's Nora & Kelli story in in Book 1"Blurred Lines" & Book 2 "Crossing Lines" of the Cops & Docs series.
My favourite has to be Nora. Simply adore her character, her personality traits. She's bloody smart and intelligent, she's gorgeous, she's aloof, she's awkward, she's introverted, she's curious. A polar opposite of Kelli, basically. But then, opposites attract! Their chemistry practically ignited from the get-go – not from making googly eyes with each other mind ya, but from Nora's indignant huffs of objection to Kelli's fiery, snarky, crass remarks & curses, all the back-and-forth! Simply hilarious & devilishly delicious! Nora, however offended she was with Kelli's objectionable behaviour, she just couldn't help but be drawn to Kelli. And vice versa. Their attraction was sublimely magnetic!
Williamson's clever weaving of Nora's self-discovery, Kelli's quest to be with Nora, their respective growth in their prickly-to-friendly-to-intimate relationship is to be lauded because as you read and find out more about these two characters, their personal struggles & their lives resonate because they're realistically portrayed. I found myself rooting for them individually, as mates and ultimately as romantic partners, as their feelings for each other grew and matured.
Book 1 ("Blurred Lines") showcased Kelli's story primarily whilst Book 2 ("Crossing Lines") belonged to Nora as Williamson crafted her journey of self-discovery, acceptance and letting go ever so brilliantly. I truly appreciated all of Nora's internal monologue splashed across the pages because it enabled the reader to enter Nora's inner psyche, feel her struggles, dilemma and her determination to open up to the one person who ultimately had her heart and soul. Her journey of letting go of her control, her inner shield and coming to terms with her true conviction about her relationship with Kelli was written with tremendous heart, it was truly compelling.
Nora & Kelli's story is utterly captivating to me. Their fiery, sizzling chemistry is simply delicious! That's why they're one of my all-time favourite lesfic couples!
All in all, Nora & Kelli's story is a MUST-READ! I highly recommend that you read BOTH "Blurred Lines" AND "Crossing Lines" back-to-back just so you can experience their entire journey from being adversaries to friends to ultimately lovers. You won't regret it!
p.s. Kelli & Nora remind me so much of Rizzoli & Isles…but much better written & portrayed. Most importantly…..GAY!!! YES!!
p.p.s. Williamson is finally giving us an update on Nora & Kelli's continued journey in her upcoming short, "Erasing the Lines" !!! Been a long-time coming! I've been wishing and hoping there would be an update on one of me favourite couples and voila!! Williamson made me wish come true!! YAY!
Anyway…..
Get your copy here: