– by Jenn Matthews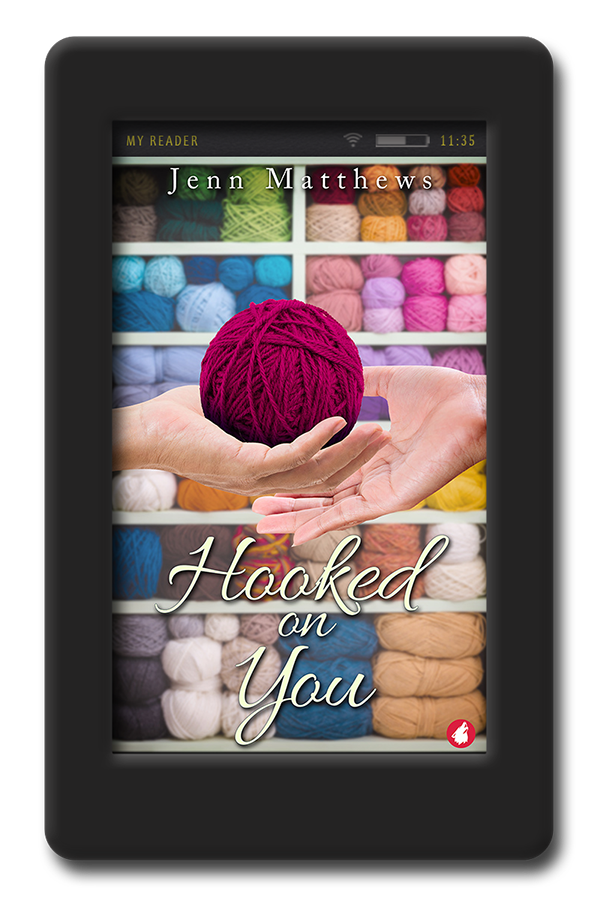 First off, I must say, I was pleasantly surprised to receive a generous offer from the author of this book to read it before its release date sometime in February with no review obligation. After communicating briefly with Jenn Matthews, new author of Ylva's and the architect of this book, "Hooked On You," I was intrigued. I promised that I would give it a go after I finished the 3 books that I was reading then. Nonetheless, the story which captivated me from the start has inspired me to decide on commenting about it.
It IS ironic that the book has the word "Hooked" on its title because…!!! Ok, ever the curious one, despite being busy reading several books simultaneously and carrying on with me day job, I just thought I'd read the first pages of Matthews' debut published novel just to get the gist of her writing tone and style. There was a Prologue. Good, so I dove in. Oh. My. God. Bloody hell! I instantly suspended all me other reads then so I could dive into this one! Needless to say, I was instantly HOOKED! From the Prologue alone! Whaaa?!
Anyway, before I become me gobby self about the story, I must say that "Hooked On You" was an utterly refreshing read for me. It was truly a grown-up, mature romance between two women in their 50's. Already that, in and of itself, was absolutely intriguing, not very common in the world of lesbian romance, mind. Perhaps, me mind still held a strong presence of Jeannie Levig's utterly memorable romance, "A Wish Upon A Star," which I only read a month ago. So, I immediately latched on to the desire to find out what Matthews had up her sleeve with this mature romance of hers. And Matthews did not disappoint. In fact, I was extremely pleased with this utterly sweet, warm, adorably quirky, fabulously grown-up romance about two of the most adorable women I've come across in lesbian romance, written with so much heart in it (you'll feel it when you read it), it felt personal to me. And that always gives me a deep appreciation for the author's openness. Those stories usually stay with me for a while. So, thank you, Matthews, for opening up your heart and soul to tell this fabulously realistic and grounded tale of romance!
Speaking of quirky, I must say, its quirkiness just elevated the authenticity of the story, imho. I mean, what could be more deliciously quirky than finding love in the world of crochet, eh? Anyway, Matthews delved wholeheartedly into an authentic look at romance that, on the surface, presented itself as a standard romance between two mature adults, but in essence, it turned out to be a new, fresh, very much young-at-heart, "young love"-type that invoked the kind of lovesick feel, filled with endless heart palpitations, heart-racing scenarios that normally only teenagers or youth would experience romance or love for the first time, you know what I mean? That's creative and original, imo! Well done, Matthews!
That said, "Hooked On You" was structured as a meticulously slow-burning romance that considered every aspect of Ollie and Anna's personal lives ever since cupid's arrow struck them at the most unlikely places, fate making its way toward their destiny of building the foundation of their friendship which slowly but surely flourished into true romance and love that finally found a home in their hearts. The whole journey flowed so organically, especially with the inclusion of both Ollie and Anna's own grown children and their mates that I felt like I was witnessing, for real, the birth of an everlasting romance between two vastly different women who bonded through one interest they initially had in common – crochet!
Apart from Matthews taking the lesbian romance genre and turning it on its head with the pairing of two mature, divorced mums of grown children, who discovered their sexuality later in life, she also took me unawares with the introduction of a few characteristics of her characters that you don't normally find in the genre – the fact that one of the MCs, Ollie, was disabled (had a pronounced physical disability which had a brilliantly compelling back story), a "normal" (I hate this word but in this context, me reckons it's applicable to depict the definition of average?) representation of Ollie and Anna's physical characterisation, and the fact that Anna's adopted adult son was autistic – all of which gave so much more depth and realism to the story Matthews was telling.
I was infinitely pleased with her realistic characterisation of how a divorce is perceived by family members especially adult children which we all know is based on various aspects including upbringing, social exposure, religious and personal beliefs. Matthews nailed it perfectly with how she presented the children's individual (or collective) views about Ollie and Anna's relationship at each stage of its development. I won't expand more on that because Matthews truly portrayed the entire journey of their children with such aplomb that you need to read it, ride the journey so you can experience its emotional impact. I do wanna mention one thing, though. It's that, you know, even an adult can throw some really childish tamper tantrums – I say "adult," but it's an oxymoron, innit, to describe an adult with tamper tantrums? Anyway, shout out to Ms. Matthews for adding that persona in one of the characters!
I absolutely LOVED BOTH Ollie and Anna. Usually, as I'd mentioned in one of me commentary in the past, I'd favour one protagonist (usually the 2nd one, for me!) over the other in a romance. But in this particular story, I was positively enamoured with their characters, their heart-tuggingly adorable, heartwarming, heartfelt personalities, from the start! Their realistic portrayals intrigued me to no end. I was desperately curious and wanted to find out more about them, how they thought about themselves and each other, how they acted in front of each other, I wanted to delve deeply into how their initial nervousness turned into a tentative friendship that became more solid as time went on, surrounded by the fantastically depicted world of crochet – colours, textures, patterns, hooks, techniques – which served as both a metaphor and a catalyst to their eventual union. Well, that's how I interpreted it, anyway.
I was addicted to their exquisitely slow-burning relationship, their simmering interactions, those longing looks, yearning non-verbal body language that Matthews detailed with brilliant precision. Add to just how they behaved and thought (monologue) was reminiscent of young love! First love, like. And in many ways, it was true! Age is just a number, as we know. It's the heart and the soul that count, really. The phrase, "young at heart," truly personified Ollie and Anna, and was deliciously adorable, tugged at me heart at each stage they were in because Matthews truly made it so endearing! First love (for one) and second chance love (for the other) feels melded together perfectly!
Another shout out to Ms. Matthews is the fact that she portrayed both Ollie and Anna's POV equally, delving into their psyche via monologues which at times gave me the chuckles! Truly enchanting were these two characters, what with all their own quirks and idiosyncrasies. I truly appreciated Matthews' efforts in depicting both of their views, giving me, the reader, an insight into both of their states of mind throughout the story. I love it when authors write both POVs because it gives me a better, deeper understanding about both protagonists' characters, hence their story becomes more resonating for me.
Oh, obviously there was a twat of a boyfriend (no worries, he turned into an ex faster than you can utter the word "wanker!") to contend with but then Matthews threw in the ever-adorbs Matthew, Ollie's gay best mate!! Brilliant! Speaking of Matthew, I utterly enjoyed the secondary characters that Matthews introduced. Me favourite was Timothy, Anna's son. I loved how his mind worked, which Matthews characterised very well. There was a brief mention of how Ollie and Timothy got on with each other. It was described so heartily that their organic chemistry jumped right out of the words for me! I wish there were more of their interactions together. It'd have been fascinating especially with Timothy's way of thinking and seeing the world, people, and relationships. Whereas, Matthew was truly charming and so was Bethany. The refreshing mother-daughter relationship between Anna and Bethany was one of the enjoyable moments, what with Bethany's wicked sense and her sharp tongue always ready for Anna! The contrast between Ollie's relationship with her children vs Anna's was fascinating to discover, thanks to Matthews' captivating depiction. I felt like they were real families facing real issues whilst living their lives.
I have to go back to crochet, though. First off, I never knew anything about crochet before reading this! No, I didn't even know what it looked like! I always thought it was knitting! I thought wrong! Matthews deftly described everything you could ever know, at least at the basic level, about what a crochet was – the intricacies of this artistic craft. By the end of it, I believed that I could crochet already, tbh! Well done, Matthews! But what truly intrigued me was me realisation that Matthews might have used crochet as a metaphor to depict Ollie and Anna's journey toward self-discovery, acceptance and finally achieving an unadulterated true love. The step-by-step effort of crochet, from creating a pattern from scratch (or deciding on an existing one), settling on the colour and "ingredients" needed to crochet every square, then finding out and learning the various knots to use, making the decision of what to crochet, all the way to taking the time and effort to begin, continue and finish the product, putting dedication into doing it as it represented something from the heart. For me, the entire story told with crochet as a crucial backdrop to Ollie and Anna's journey, romance and love, was so metaphorically affecting, I was left cherishing its deeply heartfelt effects long after I finished the story. I just love metaphors and allegories in storytelling. Well that is if Matthews intended it to be. If not, oh well…interpretation, innit?
All in all, I HIGHLY recommend everyone who loves lesbian romance to give "Hooked On You" a thorough read. Matthews' writing style and storytelling resonated in me. High marks! Plus, the fact that Matthews is a Brit warms me heart to no end because the words and expressions in her book reverberated in me psyche with a sense of familiarity and belonging, if you know what I mean! Also, she reminds me a little bit of Jeannie Levig's style, which I adore!
Anyway, this is one slow-burn lesbian romance you'd want to venture into because it's so delicately sweet and heartwarming, so inclusive and realistic, you'll cheer for them every step of the way and discover that their slow and steady journey was all worth it! Read it and find out for yourself and witness the adorable, emotionally satisfactory effects of Ollie, Anna, Timothy, Matthew, Bethany, Kieran and Helen. A true family affair as well as a compellingly heartwarming true romance!
Well done, Ms. Matthews!
*Right, now back to resuming me previously suspended reads. Hmm, where was I?*
Get your copy from: